PSUProbs
Jump To: Support > KB > ThinIT > PSUProbs
Powerboard problems
Two main types of DCDC board:
Newer type comes in two versions: with and without SATA power. Older type has different layout with a larger number of black capacitors: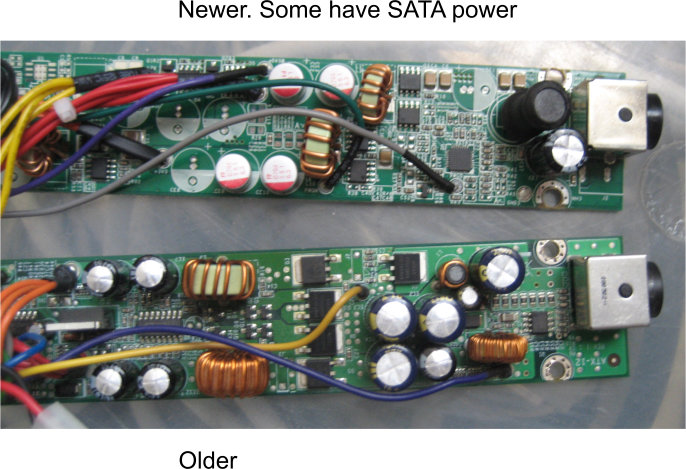 Failed capacitors
The older type of DCDC board fails frequently. Poor quality capacitors is the cause. 6 or 7 caps bulge and fail. Capacitor fails are so common, it is too time-consuming to replace them all:


Newer boards
Newer boards only just work. If a metal object is placed close to one pair of capacitors, this introduces enough environmental capacitance to make the DCDC boards fail to power up. To demonstrate, applying a small area of copper tape (insulated from the board) is sufficient to make the computer fail to power up: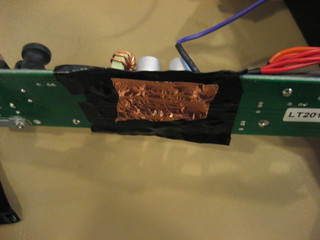 Removing the tape will get the board working again.
In older-style cases, the newer DCDC boards are mounted close enough to the metal case for them to fail to start frequently: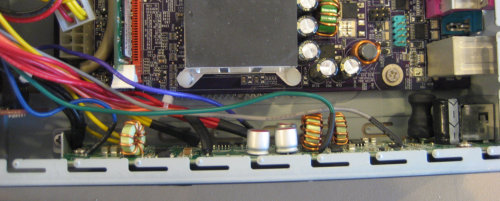 By comparision, in new cases, the metal is thinner and the DCDC boards are mounted further from the case. They work here:

Fitting the older style of DCDC board will always work.