RDP
Jump To: Support > KB > ThinIT > RDP
Using ThinIT with Remote Desktop (RDP)
From version 2.10 of ThinIT, there are two RDP clients you can use. The newer one supports full-colour pointers as used from Server 2012 onwards. At the time of writing, it does not support audio.
Prior to version 2.13, the new client can only be enabled from a central settings file. The following line will enable it globally:

(use old for the original version).
You may also enable it for a specific session by using the following (this allows you to set up separate sessions for each type):


session.NUMBER.type=rdp
session.NUMBER.mode=new

You should disable NLA in your Remote Desktop properties by unticking the Allow connections only from computers running Remote Desktop with Network Level Authentication box: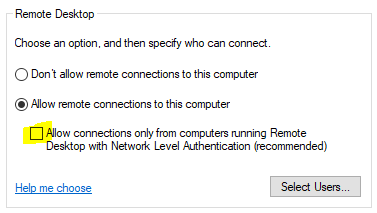 You may need to add the following registry entry if using Server 2019 (Download .reg file):

REGEDIT4

[HKEY_LOCAL_MACHINE\SYSTEM\CurrentControlSet\Control\Terminal Server\WinStations\RDP-Tcp]

"SecurityLayer"=dword:00000000