Citrix Technologies from Precedence
Why Citrix?
Founded in 1989, Citrix transforms how businesses and IT work and people collaborate in the cloud era. With market-leading cloud, collaboration, networking and virtualization technologies, Citrix powers mobile workstyles and cloud services, making complex enterprise IT simpler and more accessible for 330,000 organizations. Citrix products touch 75 percent of Internet users each day and it partners with more than 10,000 companies in 100 countries. Citrix Annual revenue in 2015 was $3.28 billion (source for figures).
Citrix technologies are used by:
100% of Fortune 100
98% of Fortune 500
100% of Fortune Global 100
99% of Fortune Global 500
Why Precedence?
Engineers from Precedence were involved in the first thin-client installation in a UK school back in 1997 and staff have been Citrix Certified Administrators since 1998. More recently, we did the first installation of Provisioning Server 5 in a UK school. You may view our Citrix partner listing here.
We keep up-to-date with the range of new Citrix technologies and have a formidable list of accreditations (some expired, but listed here for historical reasons):
Technical Certifications



CCA for Winframe 1.7
CCA for Metaframe 1.0 and 1.8
CCA for Metaframe XP Presentation Server
CCA for MetaFrame Access Suite 3.0
CCA for XenApp (Presentation Server 4)
CCA for XenApp 5 for Windows Server 2003
CCA for XenApp 5 for Windows Server 2008
CCA for XenApp 6
CCA for XenServer 5
CCA for XenServer 5 Platinum Edition
CCA for XenServer 6
CCA for Provisioning Server 5
CCA for XenDesktop 4 Enterprise Edition
CCA for XenDesktop 5
Certification in Branch Repeater
Certification in VDI-in-a-Box 5
Certification in NetScaler SD-WAN
CCA-V: Citrix Certified Associate - Virtualization (XenApp and XenDesktop 7)
CCA-N: Citrix Certified Associate - Networking (NetScaler)
Product and Sales Certifications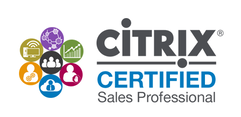 CCSP 2001
CCSP 2004
CCSP for MetaFrame XP Presentation Server
CCSP for Citrix Presentation Server 4
CCSP 2008 for Windows Application Delivery
CCSP 2008 for Desktop Delivery>
CCSP 2011 for Application Networking
CCSP 2011 for Desktop Virtualization
CCSP 2011 for Server Virtualization
CCSP 2011 for Virtual Computing
Citrix Certified Sales Professional 2012
Citrix Certified Sales Professional 2013
Citrix Certified Sales Professional 2015