Hardware-AtomIQ
Jump To: Support > KB > ThinIT > Hardware > AtomIQ
AtomIQ motherboard
There are only 2 components you are likely to replace; RAM and flash card. The powerboard may be replaced by advanced technicians.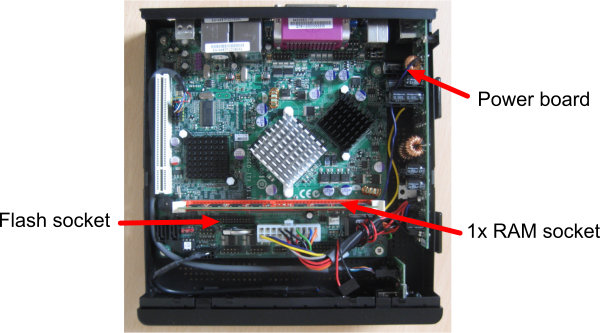 Removing RAM and flash card.
To remove the RAM, push the white levers at both ends and the RAM will pop out.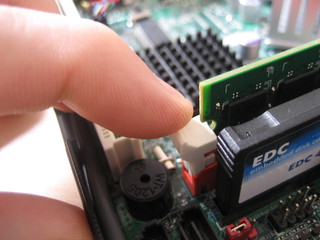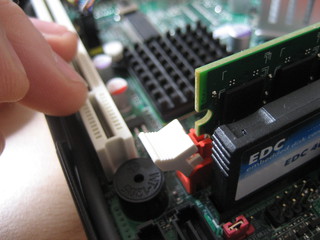 To refit the RAM, line it up with the slot and push down until the white levers click into place. Please note it will only fit in one way round.
The flash card is a small black device with a blue sticker on. It is located at the front left of the motherboard immediately in front of the RAM (it can be seen in the photos above). To remove it, grip it firmly and pull straight up. You may find it easier to remove the RAM first. Do NOT tilt it as you lift otherwise you may damage the pins on the motherboard or the contacts on the flash card.
To refit the flash, you should note that the socket on the motherboard has a small cut-out (middle front) and that the flash card has a plastic pin in the same location. Therefore the flash card can only be fitted on way round. Carefully line up the pins and push down slowly. Do not tilt the card.