Webserver-htaccess
Jump To: Support > KB > NetManager > Webserver > htaccess
Controlling access to the NetManager webserver
Important Concepts
Do not confuse file access (as you would get by mapping a drive to the webspace internally) with web access (access from anywhere using a webbrowser).
Do not confuse websites which include their own login mechanism (where you enter details into a webpage and then submit) with standard web-authentication (where your browser will present a standard pop-up login box).
If users are asked to log in, they will log into a chosen realm. The realm is the word or phrase you see in the login box. Once you have logged into a given realm, you will not be asked to login again to access all web-resources on the same server with the same realm. The realm in the examples below is "NetManager webfile access". Therefore, if you want single-sign-on, you must use the same realm.

Firefox login window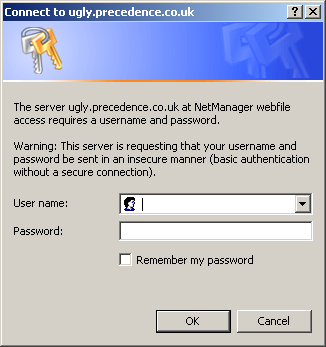 Internet Explorer login window
How it works
Per-directory settings, including access rights, are set in a .htaccess file in the target directory. All child directories will inherit settings from their parents unless overridden with another .htaccess file.
Creating a .htaccess file
You could read the Apache documentation, but the NetManager provides a simpler method: the mkhtaccess command.
To use the mkhtaccess command, go to a Command Line. The syntax is simple; like most commands you can use the -h option to view basic help:

netmanager 1# mkhtaccess -h
Syntax: mkhtaccess [-haq] [-g group] [-r realm] <dir>
        -h = this message
        -g = allow access to given group(s) - can specify multiple times
        -r = set authentication realm (default: NetManager Intranet)
        -a = always prompt for user/pass even on internal network
             (default is either internal network or valid password)
        -q = run quietly
        <dir> is the directory to create the .htaccess file in

At its simplest, you can just type mkhtaccess with no options and no directory specified. This will create a .htaccess in the root of the webarea with the following properties:
Realm is NetManager Intranet
Access from internal networks (or, more explicitly, network ranges configured as Trusted) will be given access without having to log on
All users attempting to access externally will have to log on, any valid username and password will be allowed

netmanager 2# mkhtaccess
Access to 'www' will be allowed from internal networks without
having to logon.
From externally, anyone with a valid username and password will have access

This behaviour can be easily modified:
Using the -a flag will not grant access to internal networks, i.e. you will always have to log on
Using the -r flag allows you to set the realm (you will need to put quotes around the realm if it contains spaces)
The -q flag will stop the command summarising what has been done
You can grant access to only certain groups by using the -g flag. You can use the -g flag multiple times if you want to give access to more than one group
You can give a directory name to operate in. If this does not begin with a /, it will be relative to the root of the webspace
Example usage
Open access to internal networks, password-protected externally with a custom realm:

netmanager 3# mkhtaccess -r "Our School Intranet"
Access to 'www' will be allowed from internal networks without
having to logon.
From externally, anyone with a valid username and password will have access

Configure a staff-only subfolder (called staffonly) to always require a username and password even for internal users and to grant access to only the 'teaching' and 'nonteaching' groups:

netmanager 4# mkhtaccess -r "Our School Intranet" -g teaching -g nonteaching -a staffonly
All users, both internally and externally, will need to logon to
access 'staffonly'
Only the following groups will be allowed access:
teaching nonteaching