XenDesktop-LicencesUsed
Jump To: Support > KB > Citrix > XenDesktop > LicencesUsed
Viewing licence usage
The first step to understanding your licence usage is to determine which machine is your licensing server for XenDesktop/XenApp. This will generally be either XenCore (on newer systems) or datastore.
Citrix Product Subscription Advantage Eligibility Dates
Licences have a subscription advantage date built into them. This is the mechanism by which your eligibility to run newer versions of software is determined (if your licences have a subscription advantage date which is too old, you will not be able to run newer software).This is explained in detail in an article on the Citrix website.
When you renew Subscription Advantage (SA) or SoftWare Maintenance (SWM), this will not alter licence files that you already have installed and therefore, you should download newer licence files (which will automatically have the latest SA date built in) onto your licence server, and remove the old ones.
Provisioning Services
When first introduced, Provisioning Services was a separate product. However, it is now part of XenDesktop (in the screenshot below you will see it listed as a product, but actually only XenDesktop licences have been installed).
If using Provisioning Services (PVS) to provision fat-client PCs, by definition, these will require per-device licences (as a service is being provided to that device even if no-one logs in). However, when using the virtual desktop/app features of XenDesktop, the device that uses the licence needs to be the client device (e.g. iPad, thin-client or Chromebook). PVS is mainly used to manage the backend machines used for these virtual desktops. As you want the client device, not the backend machine to take a licence, the actual machine that is provisioned will not consume a licence.
You will note therefore, that when provisioning fat-client PCs and not using virtual desktops/apps, licences required by the PCs are not allowed for in the totals displayed. However, this does not mean that the PCs do not need to be licenced appropriately with XenDesktop per-device licences, it is just that they are not currently tallied up. Therefore, in addition to reported licence usage (as discussed below), you must also add on the number of PCs that you are provisioning. You can find these quantities by selecting Device Collections within the Provisioning Services console. You do not need to count machines which are only used for maintenance purposes (probably in the Collection called Master). In the example below, we can see 5 machines are used: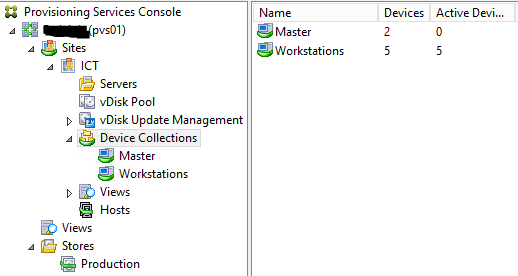 Citrix License Administration Console
A program called Citrix License Administration Console (CLAC) will be on the start menu of your licence server (note American spelling of licence). Citrix licences are installed on the licence server by downloading a .lic files from the MyCitrix website.
The Citrix License Administration Console is very useful to get a quick overview of your licence count and SA dates. It does not contain that much detail though.
To view, visit http://xencore:8082/ or http://datastore:8082/ (N.B. it uses port 8082) and you will see the Dashboard screen with all your installed licences. You can expand the items to see quantities and usage. In the example below, you can see that 49 XenDesktop Enterprise per-user/per-device licences are listed (of which 42 are used) and they have an SA expiry date of 2017.0930 (30th September 2017). It is important to note that the only licences installed on this licence server are XenDesktop Enterprise User/Device. All the other licences listed as contained within that licence, e.g. Provisioning Services for Desktops, XenApp.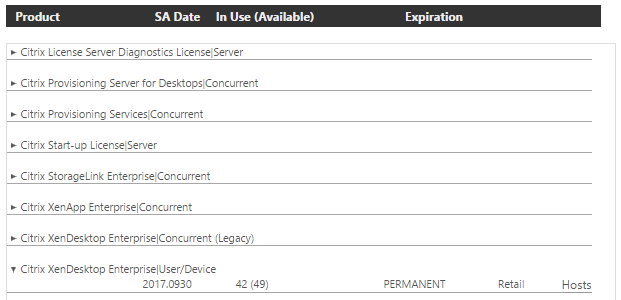 Licensing section within Citrix Studio
For a clear display of the relevant licences and their usage, open Citrix Studio on one of your XenDesktop delivery controllers (probably called XDC01). If you are using XenApp 6.5 (likely if your licencing server is called datastore), then you will not have this option. Note, this is probably not the same machine as your licence server.
The licences are display in a graphical format. In the example below (which is from the same site as the example above), you can see that:
There are actually 47 licences, not 49, but XenDesktop has granted a 5% licence overdraft which is where the 49 comes from
The minimum required SA date to run this version of the software is 2016.0518 (18th May 2016). We know from the Citrix License Administration Console that the licences have a date of 2017.0930, so this is fine.
We are consuming User/Device licencing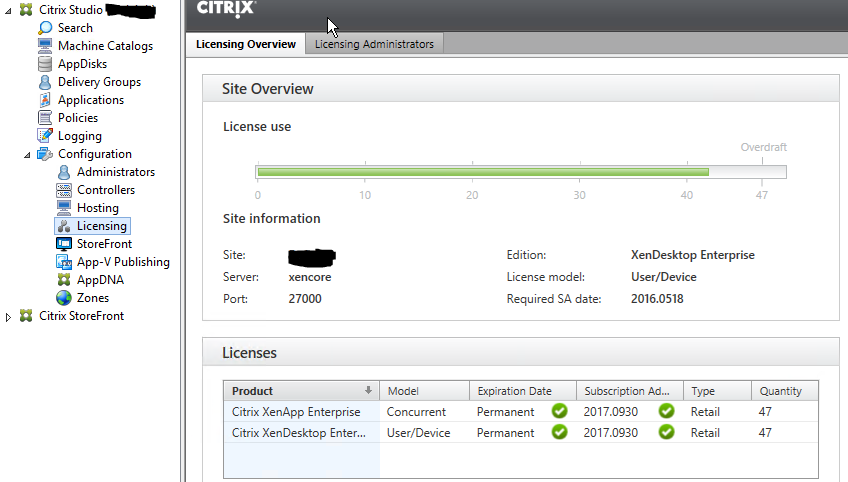 Viewing User/Device licence usage
As described here, if using User/Device licensing, a mixture of both user and device licences will be consumed depending on how your users use the devices. Shared-use devices will tend to use per-device licences, whereas as users who use many devices will tend to take a per-user licence. To see the exact breakdown, use the udadmin.exe -list -a command on your licence server. In the example below (again from the same site), we can see the exact numbers and also the names of the users and devices that have been allocated licences.

C:\Program Files (x86)\Citrix\Licensing\LS>udadmin.exe -list -a
Usage data is 1 minutes old. Next update in 15 minutes.

Feature  : XDT_ENT_UD
Installed: 49           Installed Overdraft  : 2
In Use   : 42           Users: 36     Devices: 6

  Version  : 2017.0930
  Installed: 49         Installed Overdraft  : 2
  In Use   : 42         Users: 36     Devices: 6
    Users:
      aayson
      bbeeson
      cseeson
      ddeeson
[...]
    Devices:
      room1-01
      room2-02
      room3-03
[...]